Call for Info (845)564-3848
Hours:
Tuesday 11:30 – 9:30pm
Wednesday – Saturday 11:30 – 10
Sunday 11:30-9:00
Today's Specials
Appetizers
Yobo Tidbits (Can be shared for Two) 2 Crab Rangoon, 2 Roast Pork, 2 Bbq Ribs & 2 Zuma Shrimp
Crab Rangoon A thin crispy wonton filled with Snow Crab, Cream Cheese and Herbs.
Canton Crispy Calamari with Wasabi salts
Thai Coconut Curry Mussels Pot of PEI Mussels tossed in a savory Thai Coconut curry sauce
Zuma Shrimp dipped in sesame and panko
Egg Roll Julienned vegetables, white chicken & ham wrapped in an egg crepe then batter dipped.
Vegetable Roll Julienned vegetables wrapped in an egg crepe then batter dipped
Thai Spring Rolls with pork and glass noodles.
Glazed Bbq St.Louis Ribs (5 ribs)
Chinese Roasted Pork
Edamame Steamed Soy pods with Wasabi Salts
Yummy Edamame tossed with crispy garlic and Jalapeno
Tempura Vegetable Appetizer
Tempura Shrimp Appetizer
Sushi , Sashimi & Rolls
SUSHI ASSORTMENTS
Appetizer (9pcs).
Dinner (16pcs).
Deluxe (20 pcs)
Sushi & Tempura
Sushi Boat for 2 (can add Sashimi)
Deluxe (20 pcs)
SASHIMI ASSORTMENTS
SUSHI & SASHIMI ASSORTMENTS
Chirashi. . Assorted Sashimi over rice
Hwe Du Bap. Korean style sashimi salad over rice. Served with Korean Hot Sauce
Sushi Tower
A delicious stack of Tuna, Avocado, and Kani
Chirashi. . Assorted Sashimi over rice
SUSHI & SASHIMI Ala Carte 2 pieces per Order
Tuna
Spicy BBQ Tuna
White Tuna
Yellow Tail
Fluke
Salmon
Jumbo Shrimp
Crab Stick
Tako (Octopus)
Ika (Squid)
Unagi (BBQ Sea Eel)
Sea Scallops
Tamago (Omelette)
Inari (Tofu Pockets)
SIGNATURE & JUMBO ROLLS
Tuna Sandwich Tuna chopped with spicy mayo, scallions and sesame
Golden Phoenix Spicy Tuna & Salmon on top over CrabAvocado & crunchy drizzled with Yuzu citrus
Pizza Maki Crab & avocado topped with spicy tobiko and melted mozzarella
Rainbow Roll with Cream Cheese
Spider Roll Crispy Panko Soft Shell Crab
Dragon Roll Avocado wrapped around unagi and cream cheese
Futomaki (Assorted steamed vegetables)
Mozzi Maki (spicy) Salmon, fresh Mozzarella & Scallions
Rose Maki Tuna on top avocado & unagi inside
Dancing Eel crab and avocado topped with Bbq Eel
Salmon Tempura Tempura dipped Salmon & asparagus tempura dipped
Volcano. Crab & cheese wrapped with avocado Topped with baked fluke in spicy Tobiko sauce
ROLLS Cut into 8 pieces
Tuna Roll
Spicy Tuna Roll
Crunchy Spicy Tuna Roll
Salmon Maki
Salmon & Asparagus
Deli Maki (Salmon & Cream Cheese)
Yellow Tail Maki
Spicy Yellow Tail Roll
California Roll
Boston Roll.
Philadelphia Roll
Unagi Roll (BBQ Sea Eel)
Tempura Roll (Tempura Shrimp)
Crispy Sweet Potato
Kirby Cucumber
Avocado Roll
Kimchi Maki
Oshinko Maki (Japanese Pickled Radish)
Buddha Maki
Dried fruit, nuts and avocado.,coconut outside
Japanese Grill
NY Strip Steak
Boneless White Chicken
Grilled Salmon
Yobo Special Grilled Chicken, with Beef & Shrimp skewers.
Japanese Grilled Shrimp Skewered shrimp grilled with red peppers, onions, portobello mushrooms and zucchini. Served with Japanese noodles.
Korean Barbecue NY Strip & White chicken served with sauteed vegetables and kimchi.
Bulgogi Korean style sliced BBQ steak. Served with sauteed vegetables and kimchi.
Ginza Special Hibachi Steak, Crispy tempura vegetables, and Katsu Chicken
Grilled Steak & Tempura Shrimp
Tempura Shrimp & Vegetables Traditional Rice Oil deep fry Served with a light dipping sauce.
Tempura Vegetable Dinner
Katsu and Tempura Panko dipped chicken cutlet with tempura vegetables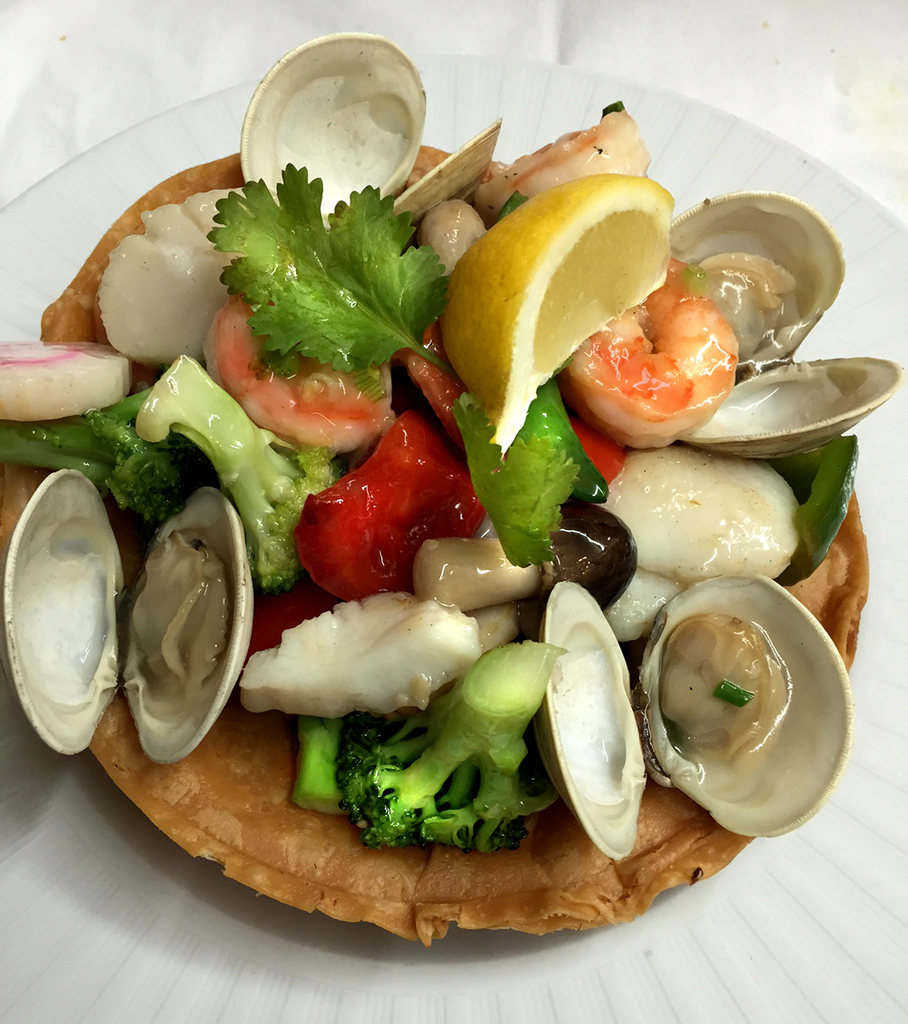 Seafood
Shang Hai Seafood Pot
Thai Firecracker Seafood
Crispy Jumbo Shrimp Wasabi Lemon Sauce or Peking
Shrimp with Mixed Vegetables Your choice of sauce: Cantonese (Ginger & Scallion) , Thai Coconut Curry, or Spicy Hunan
Cantonese Steamed Salmon
Crispy Rica Rica Flounder Spicy Indonesian style with chopped tomato & green onion. Served with Wasabi Sweet Potato
Treasure Nest Sea scallops, little neck clams, PEI mussles, & jumbo shrimp sauteed with mixed vegetables. Light Cantonese or Spicy Hunan
Poultry
Sesame Chicken crispy white chicken.
Spicy Nutty Chcken
Pressed Duck Mandarin Orange or Sai Woo with snow peas and napa
Beef & Pork
Crispy Orange Beef…Honey seared sliced flank steak with fresh orange and chili
Szechuan Beef…Beef strips tossed with carrot and bamboo strings (Spicy)
Shang Hai Filet Mignon with portobello, black and straw mushroomsServed with wasabi sweet potato.
Sa Cha Filet Mignon tossed with vegetables in Sa Cha gravy. Served with taro chips
Honey Ginger Pork Crispy sliced pork loin tossed with fresh vegetables in a spiced Honey ginger Garlic sauce
Mandarin Pork Served with Cantonese crepes and Hoisin
Vegetarian Entrees
Sesame Tofu Crispy Honey dipped tofu tossed with sesame seeds. Served with steamed broccoli.
Spicy Kimchi Tofu & Rice Cake Tossed in spicy Korean Chili Sauce.
Moo Shoo Vegetables Served with four pancakes and Hoisin.
Tofu & Vegetables Cantonese, Szechuan or Thai Coconut Curry sauce.
Mixed Vegetables over Noodles. Cantonese or Hunan Sauce
Buddha's Nest Seasonal vegetables in a noodle basket. Cantonese or Hunan Style
Tempura Vegetables Served with Miso Soup or Salad
Asian Noodles
Long Life Noodles Eat extra long Noodles for an extra long life. With Shrimp (Health), Chicken (Luck), & Mushrooms (coins)
Pad Thai Sliced chicken breast, baby shrimp, tofu, thai basil, eggs baby corn, bean sprouts, sweet peppers and ground peanuts
Spicy Beef Noodles Korean inspired rice noodle tossed with sliced beef, carrot string & celery
Hong Kong Noodles Shrimp, ChickenRoast Pork, sliced Beef and mixed Vegetables tossed with thin Hong Kong Noodles in a savory brown gravy
Szechuan Seafood Shrimp, Scallops & white chicken with snow peas & black mushrooms.
Six Stars Over Noodles Shrimp, sliced chicken, roast pork, beef and mixed vegetables Hunan style
Drunken Shrimp & Chicken with broccoli, snow peas, carrots and sweet red pepper in home made rice wine sauce
Sides
Wasabi Sweet Potato
Snow Peas Tossed with Carrots, Jicama, & Ginger
Broccoli & Bamboo Szechuan
Yobo Mixed Rice Beef, chicken, pork, shrimp & vegetables
Thai Spicy Vegetable Rice
Kimchi Fried Rice
Fresh Canton Noodles or Fried Rice
Chicken, Beef, or Roast Pork
Desserts
Chocolate Mousse
Cheese Cake with fresh Raspberry
Chocolate Peanut Butter Explosion
Carrot Cake